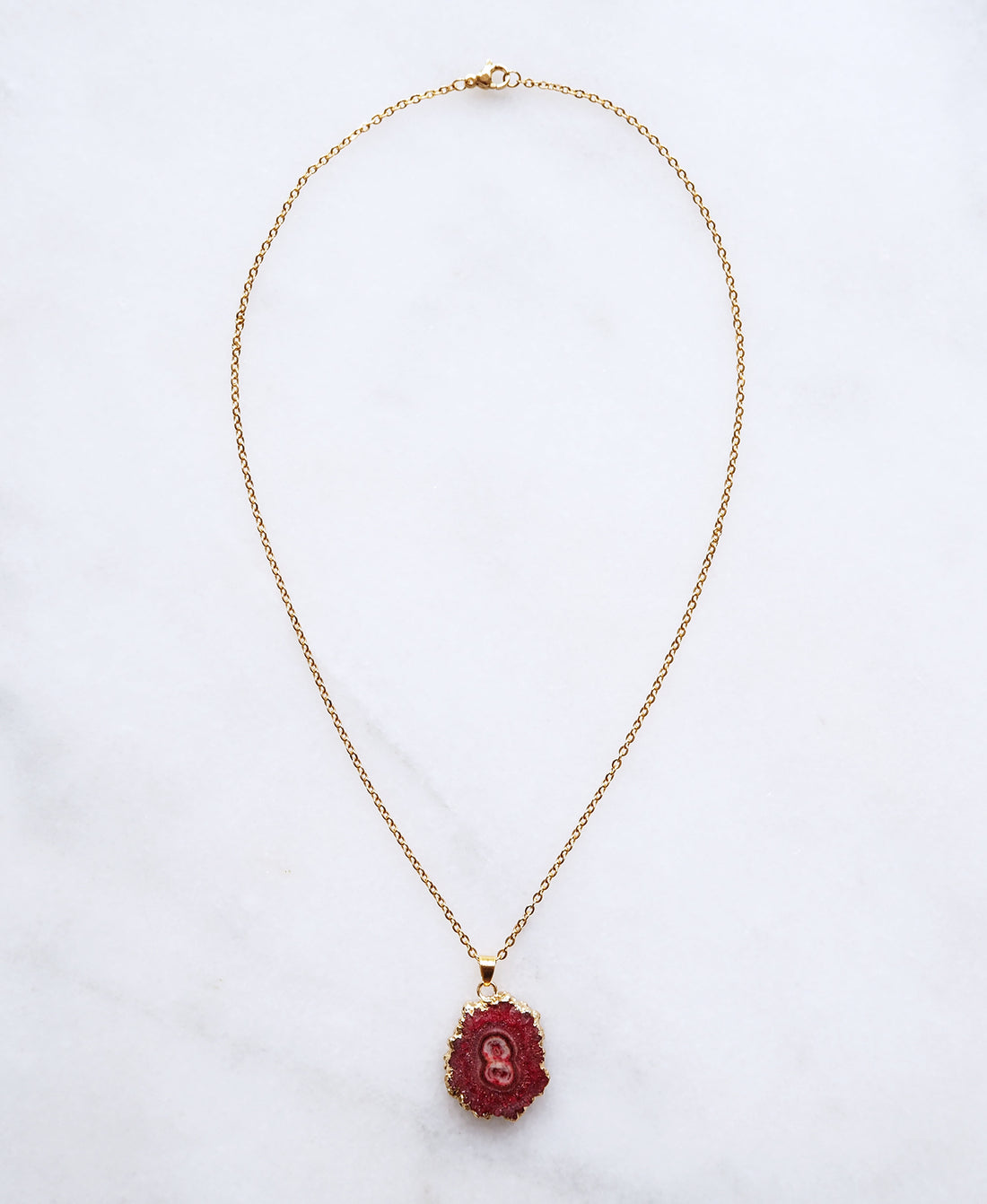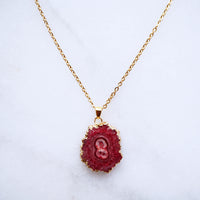 Strawberry Druzy Agate Necklace
Druzy Agate Necklace is the perfect jewellery if you want to keep your crystal close to your heart to always stay connected to the energy of the crystal.  
Druzy Crystal will purify and amplify your body's natural healing properties. It will also strengthen your spirit. It will provide balance in your life to avoid feelings of sadness, abandonment or fear. Druzy is believed to be associated with peace, patience, intuition, and unconditional love.
Handmade in Amsterdam
Gold-toned Stainless Steel necklace featuring a Strawberry Druzy Agate gemstone pendant. 
Length of chain: 45cm

The stone is 2-3 cm and 5-10 grams. All stones are unique and may vary in size and color. Do not use in water. 
Shipping time estimate:
Local pickup: Ouderkerk aan de Amstel
Netherlands: 1-3 working days
European Union: 2-7 working days

Shipping costs:
€2.95 - Netherlands
€7.95 - European Union
Free Shipping in Netherlands above €40
doesnt look like the photo
the necklace was pink and looked cheap. also having to pay for shipping AND return costs when the product did not match the description is unfair. i understand gemstones naturally all look a bit different but why call it a strawberry necklace if it isn't remotely strawberry coloured?
Hi Rebecca :)
Sorry you did not like the color of the necklace :/ Indeed, as the description mentions all stones are different and may differ from the photo in color or shape. When returning you only pay for return costs - shipping costs are always refunded :) if you have any questions about this, please contact customer service at hello@tuulistones.com and we will help you!
Best,
Emma at Tuuli Stones
love it
the packaging was super cute and i loved the handwritten note. the necklace itself was gorgeous.